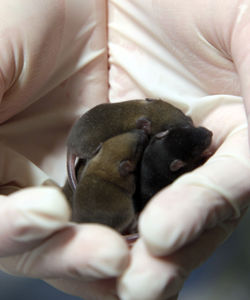 ICS plays a central role in large-scale infrastructure initiatives, both on a national level and on a European level, and is a major player in various European funded programs. Through the National infrastructure for Biological Sciences, PHENOMIN, ICS is also involved in the unique international program dedicated to decipher mammalian gene functions in order to better understand human physiology and diseases.
Through all of these collaborative projects and its own research and development activities, ICS has created over 120 models /year since 2002. Some of these models were generated for scientific research groups, with the help of the RNG (National Network of Genopole) and of the INSERM, and a common goal to make the models available to the scientific community after a few years of embargo.
According to its commitment, ICS now opens to the scientific community a collection of more than 250 models and you are welcome to search for your model of interest in :
In most of the case only heterozygous carrier has been used for archiving and thus the distributed materiel may contain carrier (mutant or transgenic) and control (not mutant or not transgenic) embryos or gametes. ICS offers additional breeding services to e.g. generate cohorts of homozygous mutants. A quotation for such a service is available upon request.
Please note that all the lines are not specifically maintained for distribution. We thus cannot guaranty immediate shipment of live animals you requested. Once a request of interest is received, you will be contacted by email within a week to give you an up-to date availability of the requested line.