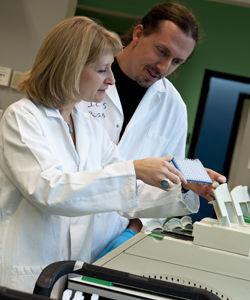 The Genetic Engineering and Model Validation department is in charge of the generation of customized and ready-to-use genetically modified mouse.
Since its creation in 2002, more than 1300 mouse models were done for our customers: academic labs, European Union or big pharmaceutical groups.
We offer quality custom generation of a wide range of mouse models developed by microinjection of Sv129/Pas or C57BL/6N ES cells into blastocysts or by DNA pronuclear injection.
We also focus our efforts on reducing the timelines by developing new techniques and standardizing our process. To secure your project, we provide quality control procedures and develop a quality management system / assurance. 
Each model can be validated at the DNA (ddPCR, Southern Blot), RNA (Northern Blot) or protein level (Immunohistochemistry, Western Blot) by our genotyping and gene expression services
These services are 100% customized: each step can be performed or not in our institute.